South East Printing the company
South East Printing has operated in Cooma since 1993 when Brian Coyte purchased the printing presses and commercial work from the local newspaper and now runs the business with his wife Dale.
Since then they have kept up-to-date with technology and entered the world of digital printing and now run high end Konica Minolta and Roland machines.
In 2004 it was decided to enter the world wide web and now offer a cost effective way to get your business on the internet.
Since inception South East Printing have prided themselves in their work and you can be assured of the finest quality product and backup service. South East Printing is a local company, run by local people, and will always be around to assist you.
After working with our design people to create the perfect look for your business, you will find the best part about dealing locally, with local people, is that your product can be in your hands in the timeframe they will have discussed with you. Dale came to the business in 2003 with a background in electronic publishing and newspaper production management. She handles the design work and all website design and implementation.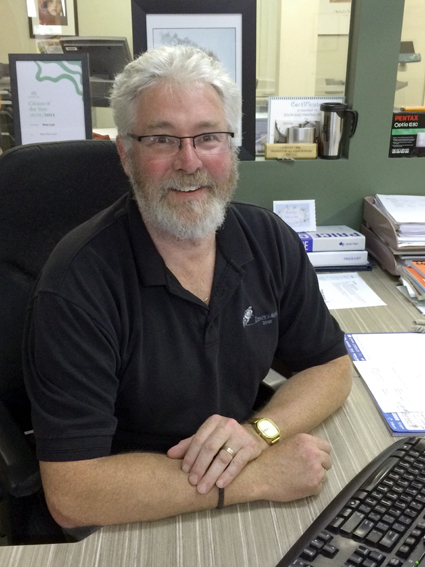 Brian Coyte, Managing Director.
Brian and Dale, as well as running the business, are heavily involved in charity work. They work closely with the Steven Walter Children's Cancer Foundation and organise the Snowy Hydro Family Program which is held in conjunction with the Snowy Ride. This program sees families of children with a cancer diagnoses brought to Thredbo for 4 days of fun and relaxation. Along with others, they have been donating their time to this program for 14 years. Brian also acts as the local connection in the Snowy Mountains for the Snowy Ride.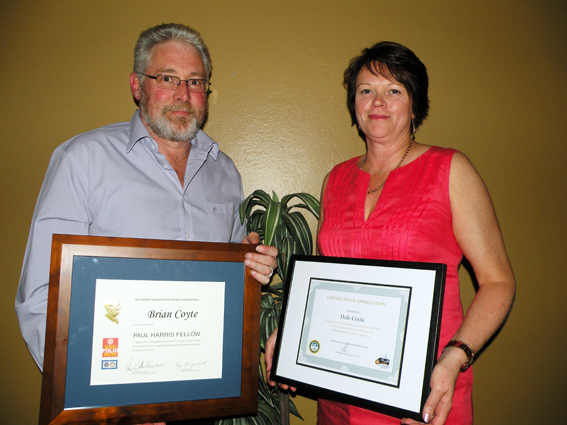 Brian receiving the Rotary Paul Harris Fellow and Dale receiving the Rotary Certificate of Appreciation Award
for their community service.
Dale is also a member of local group, the Monaro Committee for Cancer Research (MCCR). This group raises funds for the provision of cancer research and services throughout the Snowy Monaro Regional Shire. She has also been a member of the Cooma Show Society for a number of years.
Brian has also been involved with Apex (Life Member) and Monaro Family Support and is still an integral part of the Cooma Rugby Union Football Club. In 2011 he was awarded the Citizen of the Year Award for his community work.